Producing A Acid Grade Fluorspar Is Our Ultimate Goal!
Since 2010, Our Team Has Succeeded In Understanding The Needs Of The Industry And Extracted Flourit Mineral From Bakhud Mine of Afghanistan To Serve Them All.
Amania Mining Company (AMC)  is a privately-owned and self-invested enterprise with the aim of developing the mineral resources of Afghanistan. As one of the leading mining companies in the region, we are engaged in the exploration, development, mining and processing of industrial minerals and non-ferrous metals for the global market. 
AMC's exploration department is engaged in extensive exploration of the lease area for other industrial minerals and non-ferrous metals to increase the value of the mine. Afghanistan's economy has recently taken significant bounds and continues to improve, in light of this one of AMC's core policies is to work closely with local communities to increase standards of locals by creating job opportunities, achieving social development and contributing further to the local economy.
Numbers Speak For Themselves
Quality Comes First! We Make Sure That Every Minute Detail Is Looked Into While Mineral extraction, and mineral processing. Our Focus Is 100% On Client Needs And Satisfaction.
Bakhud Fluorite Mine extraction
Amania Mining started the exploration of Bakhud's licensed area from May 2013. Base camp, water wells, access roads and other facilities have now been developed around the area.The exploration work team and geologists gained access to historical Soviet Union mining and exploration data,with further validation of geological maps and data, a strategic exploration plan was put in place and executed in 2014.The leased area of Bakhud's mineral occurrences consist of numerous almost flat lying thin bedded, irregular, lenticular and tabular fluorite beds with large barren zones between them.
The purpose of this project is doing mineral processing tests work
(laboratory and pilot scale) and bankable feasibility study on BAKHUD
Fluorite mine of Amania Mining Company (AMC).
The base for the present studies, the results of which are described herein,
is contract No. DF-50-E01, signed in 2018 between DFC "Danesh Faravaran
Engineering and AMC and client request for Bankable Feasibility Study
(BFS).
We Are The Fluorspar Mining Company, You Can Trust On For A Perfect Fluorit To All Your Needs.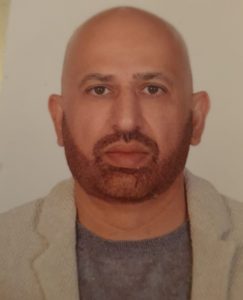 Rashid Popal
Chairman / Principal
Rashid Popal, born on 20th February 1968 in Kabul province of Afghanistan, the founder and managing director of Amania Mining Company possesses 100% shares.
Mr. Popal is an innovative business leader with over 30 years of experience in Afghanistan, Central Asia and the Middle East with diverse industries and functional expertise in strategy, management, operations and finance.
Mr. Popal is recognized an energetic leader with track record of success known for ability to envision and create successful outcomes in complex situations.
Need CaF2 90% - 97% in Bulk or Small Quantities? We Are Ready to Supply in any corner of the world!